Alyssa Valentin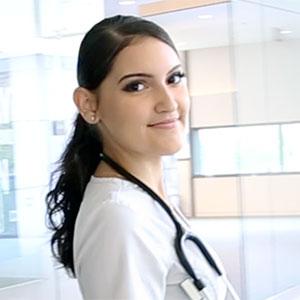 Alyssa Valentin is from Worcester, Massachusetts and is a new Pediatric Nurse. Growing up in a diverse community she saw the disparity in her community which is partially why she joined the National Association of Hispanic Nurses. The organization provided her with mentors and scholarship opportunities that she didn't know existed, and community activities that provide assistance to the public. She feels strongly that role models are important because they give guidance as to what classes to take in high school and provide motivation.
As an 8-year-old, she saw her aunt graduate from the College of Nursing and knew instantly that she would one day follow in her footsteps. With the financial help of her family and her dedication she was able to stay motivated on her journey to become a registered nurse. Alyssa recalls reaching out to her parents for encouragement when she felt stressed-out in school. It was a rewarding moment for all when she graduated from the University of Massachusetts at Amherst.
If you would like to learn how to be successful in the nursing field with the help of a mentor click here.