Marjorie Vasquez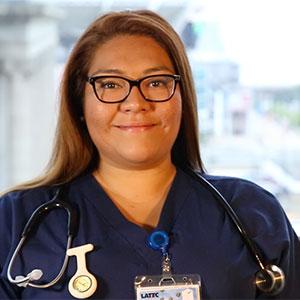 Marjorie Vasquez is from Los Angeles and loves the adrenaline rush that comes with a career in nursing. Nursing might not be a fit for everyone, but she loves the opportunity to help patients and figure out how to make a situation better for them and their families. Marjorie cites her mother as her role model and the person that opened the door to nursing. Her mother was a caregiver to older patients and Marjorie often accompanied her to the hospital where she saw nurses in action.
She encourages prospective student nurses to seek out volunteer opportunities and lean on their support system. When asked about the nursing program, she says "It's hard but it's not impossible." After failing her first exam, she realized that she needed to change her approach to studying, which is when some say she went "highlighter happy". For her, it is how she is able to study smarter and retain information. She is currently attending Los Angeles Trade College and enrolled in the Bridge Program at California State University.
If you would like to learn how to be successful in the nursing field with the help of a mentor click here.