Erika Ventura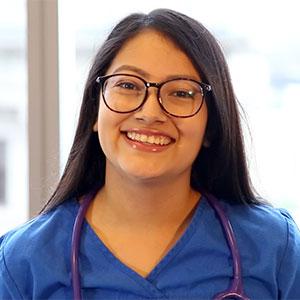 Erika Ventura is from Washington, D.C. and is a student at the University of Kentucky. At the age of 16 she was diagnosed with atrial septal defect (ASD), a condition that she was born with. The compassion that she received from a registered nurse while she was at the hospital let her know that everything would turnout for the better. Her experiences in the hospital opened her eyes to a career in healthcare. She wants to be a registered nurse to provide the type of care she received to others.
Her advice to students that are seeking a career in nursing is to ask. Registered nurses are always willing to share their experience and knowledge with others. If you don't know someone in the medical field, Erika suggests using internet resources such as the National Association of Hispanic Nurses' website to learn about what classes you need to take. For Erika, nursing is a career full of opportunities.
If you would like to learn how to be successful in the nursing field with the help of a mentor click here.