Ericka Crump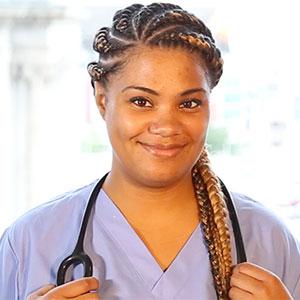 Ericka Crump has a degree in Public Health and is pursuing her nursing degree at Springfield Community College in Massachusetts. She describes nursing as an 'art' because it requires the application of human creative skills to understand people and figure out how best to help them. This is her second attempt in a nursing program and she feels like she now understands how best to succeed: work less, build her support network, show up early and ask for help are a few of the changes she has made to her approach.
As a student nurse, Ericka is always willing to volunteer and share her story as a young mother if it can be of use to others. Her local chapter of the National Association of Hispanic Nurses has been very supportive. She has been volunteering at at a community care center working with young mothers dealing with postpartum depression. The experience has provided an opportunity for her to be a role model to teen mothers interested in a career in healthcare.
If you would like to learn how to be successful in the nursing field with the help of a mentor click here.