Edith Bosque Barnes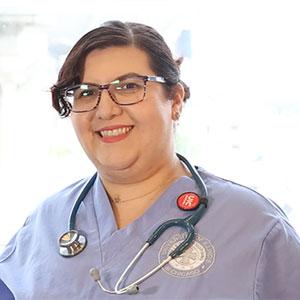 Edith Bosque Barnes is attending the nursing program at the University of Illinois at Chicago. If there was one word to describe why she loves nursing, that word would be "opportunities." She is torn between different fields within nursing because there are so many different types of jobs that registered nurses do. You can work in administration, research, education and of course bedside with different population groups. While doing her clinical rotations she was surprised to discover that she enjoyed her time working and learning from psychiatric nurse practitioners. Currently she works with a community organization that does health education and policy, which she enjoys as well.
Before starting her nursing program Edith was working in forensic science but felt she needed a career that provided her with human interaction and opportunities to make a difference in her community. She encourages other students to join the National Association of Hispanic Nurses because they provide guidance, encouragement and of course, college scholarship opportunities. As a parent, her priority before starting school was to determine how to pay for college and find a balance between school, work and family.
If you would like to learn how to be successful in the nursing field with the help of a mentor click here.