Liliana Vasquez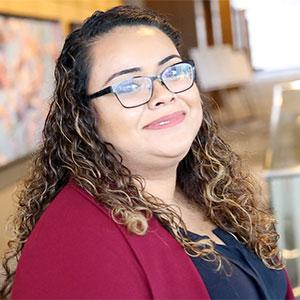 Liliana Vasquez is from Chicago and a recent graduate from Dominican University. As a teenager, she dealt with many illness and spent a lot of time in and out of the hospital. During her visits, she was able to see what registered nurses do and decided she wanted to become a nurse as well. Accomplishing her dream wasn't easy because as a DREAMER with Deferred Action for Childhood Arrivals (DACA) she was not eligible for many of the grants offered to students. She was not deterred and continued to volunteer, take on jobs after school and participated with the National Association of Hispanic Nurses.
Learning the material in the Nursing Program is not just cramming to pass an exam but to be able to apply it when helping patients. For Liliana and other student nurses, studying till 2 am was common. She had to understand quickly how best to study in order to retain the material which involved many hours in the library. At first her family did not understand why she was missing so many family functions but later they appreciated the work ethic that they instilled in her.
If you would like to learn how to be successful in the nursing field with the help of a mentor click here.