Krystal Rivera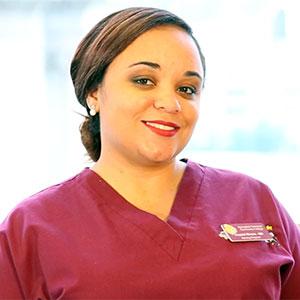 Krystal Rivera is from Springfield, Massachusetts and attends Springfield Community College. As a Certified Nursing Assistant she has worked in post-surgical and hospice care. She is also a mental health counselor and now forms part of a pediatric unit. Her goal has always been that of becoming a registered nurse. As a young mother she was told she would not complete high school but she was not deterred and graduated with a 4.0 GPA. Krystal is determined to follow in the of footsteps of her grandmother and aunt who are both nurses. She says that her mother, who is also a Certified Nursing Assistant kept encouraging her and supporting her determination.
Krystal encourages students to follow their journey, regardless of how long it takes. Every step gets you closer to your goal. Finding a mentor is key because one learns what you need to do to become a registered nurse. Visit your local chapter of NAHN or visit the Mentor Connection on this website.
If you would like to learn how to be successful in the nursing field with the help of a mentor click here.